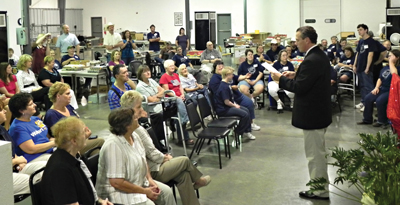 Missouri's Extended Employment Sheltered Workshops may be one of the best bargains in the entire state. Employing 7,000 people with disabilities in a wide range of settings, they offer opportunities that might otherwise require massive subsidies. Thousands of parents and guardians value their service, which still reflects the grassroots that formed workshops more than 40 years ago.
Missouri Workshops: Great Services…and a Great Bargain
What would you say if someone offered you $5 or $6 in exchange for $1? Then, what would you say if for that bargain, they solved several challenges that troubled both your community and the state?
That's the deal Missouri gets from its nearly 90 Extended Employment Sheltered Workshops.
By providing employment for nearly 8,000 people with disabilities and business services that earn income, workshops offer Missouri a "two-fer" that is unbeatable in today's tough economy.
Workshops are more, however. They form a critical network for local, county, regional and state services that includes employment and skill training, advocacy and more.
All of this should be no surprise. Missouri workshops were started more than 40 years ago by parents, guardians and others who were vitally concerned with opportunities for people with disabilities.
They and others have continued to work for realistic services that pay their way, while delivering a range of services.
It's a bargain that can't be beat.
More About Workshops
A Real Bargain | Our Foundation | Consumers | Opportunities | Businesses | Busness Services
Grassroots History | What People Say | About Workshops | MASWM Mission Statement