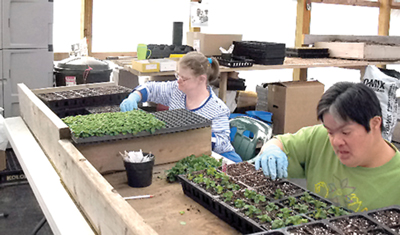 Business and other services provided by Missouri's workshops include a wide range of outsourcing, custom and other important programs that save businesses money and make difficult projects possible.
Nearly every workshop in the state provides packaging, mailing, assembly and related services related to fulfillment and delivery. Because workshops offer these skills in an extremely flexible manner, often working with individual businesses to create custom programs, companies in effect have an on-demand expansion of capabilities.
Along with these traditional outsourcing programs, workshops also operate a number of on-demand efforts. These include award-winning maintenance of state facilities such as high-traffic, highway rest areas. Workshops have also successfully joined—and in many areas lead—the "green" revolution with recycling and other programs. These efforts continue the expansion of employment opportunities for people with disabilities in communities throughout the state, and also improve their communities while helping other businesses and organizations.
Many workshops also produce their own, original products. These range from first aid kits for pets or people, to industrial wooden skids.
All of these programs provide ever increasing employment opportunities for Missourians with developmental disabilities. They also provide outstanding services to Missouri communities and the state as a whole.