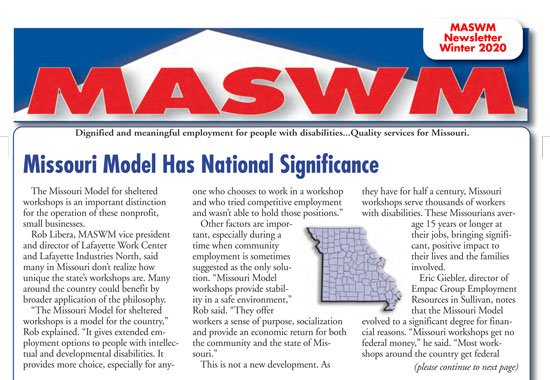 MASWM Newsletters and other Publications
New: Spring 2020 Email Newsletter (opens in new window)
Print Newsletter PDFs:
• January 2020 MASWM Newsletter
• Janaury 2019 MASWM Newsletter
• Janaury 2018 MASWM-MESA e-newsletter
• Special MASWM-MESA October Newsletter
• January 2017 Issue
• Special Mo Day on the Hill Issue
• Special 50th Anniversary Issue

Special Info Flyer. This four-page booklet is a good answer to questions such as "What are Missouri's workshops? What do they do? How are they funded?"
Directory PDF (this document is updated bi-annually with new e-mail addresses, etc.)
Other Recent News
Behind the Workshops is one of the most important groups of all: parents and guardians of people with disabilities.
Funding: The greatest hurdle for workshop success
Rural Shops face unique challenge
This Q&A will surprise you!
Where did it all begin?
Here's a letter that just about says it all.
A newspaper's letter to the editor is one of the best examples of really describing workshops' true services that we've ever seen.