Workshops Team Up to Help Business, Fight COVID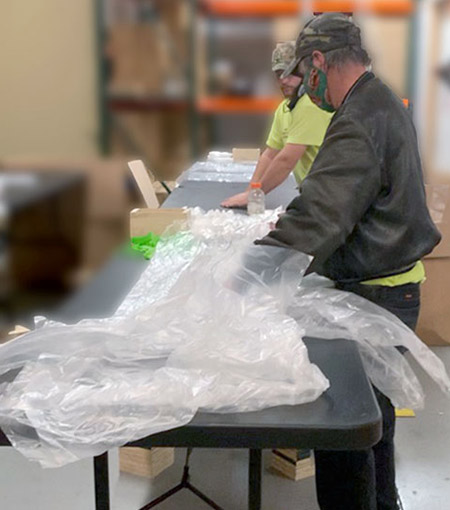 Employees at Laclede Industries in Lebanon were among those at four workshops helping a furniture manufacturer fulfill an emergency request for COVID-related PPE.
(The following article is from the January 2021 MASWM Newsletter.)
Four Missouri workshops played a critical role helping a Lebanon, Mo. furniture manufacturer produce 150,000 hospital gowns by Dec. 1.
Angie Jackson, vice president of Justice Furniture, said the story actually began with a call from Missouri Gov. Mike Parson. "The governor had called us and asked if we'd ever thought of producing PPE," she recalled. "The next day Steve Edwards at Cox Health presented a gown and asked, 'Can you make this?' Suddenly we were in the disposable isolation gown business!"
Tight Timetable
The challenge involved producing a large number in a short time – and packaging them. "One of the things is that after all the cutting, you have to fold them," Jackson explained. "We needed a lot of reliable people, and we needed them fast."
Angie recalled Laclede Industries in Lebanon and contacted manager Linda Kimrey. The rest, as they say, is history. "They just took the ball and ran," Jackson added. "The next thing I know, four workshops were on the job."
Kimrey had realized immediately the job was too large for one shop, so she called on Lake Area Industries in Camdenton, Opportunity Sheltered Industries in Houston and Pulaski County Workshop in Richland.
"That was a Friday, and we got started Monday," Kimrey recalled. "We all just jumped in and got it done."
Teamwork
Natalie Couch at Lake Area Industries said this type of collaboration is not unusual. "Two years ago Laclede (Industries) helped us immensely," she recalled. "It was our chance to pay them back. That's important for us. We all run into times when we have too much. It gives us opportunities to take on bigger projects."
In Pulaski County, manager Lacy Karr noted employees with disabilities were excited to work on a project that combatted coronavirus. "They loved it," she noted. "They all jump at the chance to help, so this was great for them."
At Justice Furniture, Jackson said the workshops were integral to completing the project on time, and she'll be looking for workshop help in the future. "We'd do it again!" she concluded. "People sometimes forget about workshops, but they are so talented."