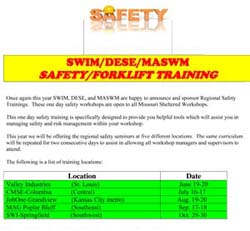 Workshop Safety/Forklift Training 2014
SWIM, DESE, and MASWM will sponsor Regional Safety Trainings across the state through Oct. 30, at five locations. The same curriculum will be repeated at each location for two consecutive days to allow all workshop managers and supervisors to attend.
The final session is Oct. 29-30 at SWI in Springfield.

These one-day safety workshops are open to all Missouri Extended Employment Sheltered Workshop managers and staff. The safety training is specifically designed to provide you helpful tools that will assist you in managing safety and risk management within your workshop.
This year, we will be offering the regional safety seminars at five different locations: St. Louis, Columbia, Kansas City, Poplar Bluff and Springfield.
Download the complete registration form and details on this PDF flyer, information notice and agenda form.





MASWM The Missouri Association of Sheltered Workshop Managers
If you have questions, please contact: Legislative Co-Chair Randy Hylton: Phone (816) 781-6292 or E-mail rhylton@vsiserve.org; Legislative Co-Chair Jim Guyre, Phone (314) 731-1771 or e-mail jim@valleyind.net; or President President Bruce Young
Phone: (573) 442-6935 or E-mail: cmsebruce@aol.com