Lafayette Industries Article Illustrates Complex Workshop Operations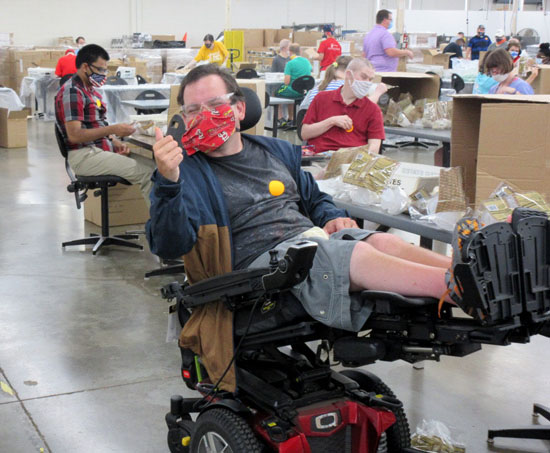 Workers at Lafayette Industries in Manchester and Berkeley were recently featured in the St. Louis Business Journal.
Lafayette Industries was recently featured in the St. Louis Business Journal with an in-depth look at the organization's work, including the huge difference between workshops and traditional businesses.
Author Vince Brennan summed up this difference well: "Whereas other firms aim to grow sales and cut overhead costs, such as workforce, when times are tight, Lafayette hunts for contracts with the hopes of increasing its employment count of 411."
Lafayette Industries operates two workshops in the St. Louis area. Both provide business services like packaging and, like other workshops, a major difference between Lafayette and other businesses involves training. 
"All sheltered workshops have a common bond, which is to employ as many people with developmental disabilities as possible," Executive Director Rob Libera said. "We have a counterintuitive business model. We want to grow the business to grow the workforce."
Training on Steroids
A dramatic example involves a new program, STEP UP, which trains people with intellectual and developmental disabilities to gain or maintain competitive employment. Funded by a grant from the county Productive Living Board, the effort focuses on social skills with curriculum created by special education teachers and business leaders.
The results are notable. "People have moved on to jobs at hospitals, in cafes and placed in a private businesses for order expediting and fulfillment," Libera said. "Here, they learn how to work and be part of a team. They realize that they have their own set of skills that are valuable."
More information on STEP UP is available at this link.
The article also detailed well how workshops like Lafayette serve their communities. By providing people with disabilities a place to grow their skills, gain independence and work toward becoming a valuable part of the workforce, they are able to contribute to their communities. This is often a far cry from traditional firms that often turn them away, a reason 75 percent of people in the U.S. with developmental disabilities are unemployed.
Grassroots Foundation
The article outlined how Lafayette's 44-year history reflects a typical grassroots beginning. In 1976, parents of children with disabilities worked together to create a workshop in Manchester. In 2004, they took over another workshop in nearby Berkeley. Today, Lafayette Industries is the largest full-time employer of people with developmental disabilities in Missouri.
The story includes several surprises as well. Dealing primarily with consumer products, Lafayette contracts with national firms and local companies, earning a reputation with both for attention to detail and flexibility, traits that many workshops share as a competitive edge.
"We've gone up against private companies that have offered a less expensive price but couldn't turn it around on time," Libera noted. "These companies have strict delivery schedules, and we've been able to meet them. That's been a big strength for us."
For Business Journal subscribers, the full article is available here.