New Board Member Faces Challenge, Opportunity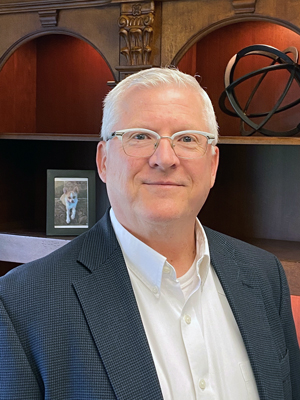 New MASWM board member Byron Myers sees workshops facing both challenge and opportunity.
New MASWM Area I Director Byron Myers brings a unique background to workshops, but when he was named CEO of Specialty Industries in St. Joseph some 18 months ago, you could say his timing was "interesting."
"I was introduced to the hot seat just in time for COVID," he quipped. "My first full year was exciting, to say the least."
Myers' background was a help. He joined Specialty Industries as employee relations manager in early 2019 after extensive experience in both human services and private enterprise.
Hometown Roots
A native of St. Joseph, Myers working began at a young age in an outdoor power equipment store that he helped build into a distributorship. He also earned a bachelor's degree in psychology from Missouri Western State University and a master's in social work from the University of Missouri - Columbia. That led to 20 years in the mental health field, including work with a private agency before joining the Missouri Department of Mental Health.
That combination of business and human services provided an excellent background when he pursued an opportunity with the St. Joseph workshop. "It's like the perfect combination of business and social work," he said. "In mental health, I also worked with adults with developmental disabilities and over 20 years got to know a lot of folks in this area. It's a great match."
New Challenges
Still, when the previous CEO retired in the fall of 2019, little could have prepared him for the onset of a global pandemic that came just months later. Myers, however, has a way of finding good things in a challenge, and this was no exception.
"I'm lucky in that our production manager has been here 30 years, and he's a great resource," Myers explained. "All of our managers are outstanding, with a minimum of 10 years. I have a wonderful team here." He also credited previous CEOs with building a strong financial foundation for the organization.
The shop also found a new opportunity when a business they had worked with, the international corporation Nestlé, needed help because vendors nationally were closing due to COVID.
"Nestlé reached out to see if we could help with a project," he explained. "We had to build a new line and engineer some equipment, but it worked well. And now we're going to be able to keep the contract."
Contracts like that are not unusual for Specialty Industries. The St. Joseph shop also provides service for a distillery, a chocolate producer and a cat food company. Specialty's employees enjoy seeing their work in local stores, although the shop also distributes its products from Pennsylvania to California and even Canada.
Workshop Issues
One aspect of all this is something other managers can relate to. "It's obviously a very unique business," he said. "First you have to have a heart for the people with whom you're working and the special needs your workforce has. But at the same time, you have to run a business. If you go out of business, you can't help anyone."
Myers met his wife, Carol, while the two were doing a high school musical, and both remain involved in the arts. He helps direct a faith-based community choir that his father founded in 1970, while Carol directs children's programing for a theater group after retiring from teaching grade school. The couple has two adult children.
Myers shares many of the concerns facing workshop leaders across Missouri and even the country, but he remains optimistic. The debate swirling around 14c of the Fair Labor Standards Act and commensurate wages is a good example. As he joined the MASWM Board of Directors, the group is forming a task force to examine the issue and how to deal with it.
"I am concerned about the risk to 14c," he concluded. "That makes me nervous. But I am kind of excited about the opportunity to really look at this challenge. That can be good."