MASWM Board Looks to Help Workshops with COVID, Financing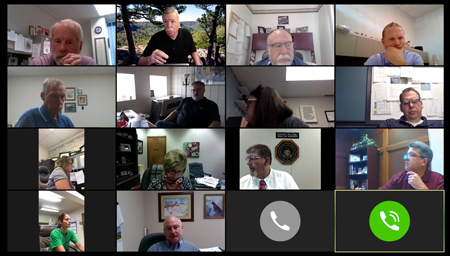 Members of the MASWM Board of Directors faced a challenging list of topics in their videoconference Aug. 10.
The MASWM Board of Directors continued its bimonthly meetings with a crowded agenda of critical issues facing Missouri workshops.
With its health, operational and economic fallout, COVID-19 continued to lead the list during the Aug. 10 Zoom videoconference.
DESE Workshop Division Director Dan Gier said 41 shops are now dealing with employees or staff who have tested positive. Board members noted that shops should be prepared to isolate employees testing positively and should have procedures in place to track and isolate fellow workers and staff.
"COVID isn't going away," Mike Stroud said. "When you have someone who's infected, contract tracing becomes critical. It can shut you down or, with contract tracing, it's something you can handle by isolating a few people." Key procedures included establishing employee groups and distancing. That way, if someone tests positive, only his or her group needs to be isolated.
Critical help was also noted in the form of grants available from DESE for which applications are open through Aug. 28. For more information, visit this link: https://dese.mo.gov/special-education/sheltered-workshops/sheltered-workshops-coronavirus-relief-funds-grant. Several who have submitted applications noted that partial applications are being accepted and that additional data can be submitted later.
"That deadline (Aug. 28) makes it sound like a lot of time, but when you're trying to get your information together, it can go very quickly," Gier said.
State Issues
Another upcoming challenge will involve Missouri's minimum wage requirements, which are now moving forward again. Although many shops are at or near this goal, the wide range of skills and hours worked will make the issue challenging. MASWM Legislative Consultant Lynne Schlosser said these and issues like Medicaid changes recently passed by voters are making the current legislative environment extremely difficult.
"There are more unknowns now that I've ever seen," she said. "More even than 2008."
Both Schlosser and Legislative Co-Chair Kit Brewer noted much of their work currently involves tracking issues that could impact Missouri's already strained budget.
Stroud, chair of MASWM's advocacy committee, said the group is tentatively setting 2021 dates. These include a National Day for Choice in March, depending on the ARC conference; May for Missouri's annual Day for Choice in Jefferson City; and June for Missouri Day on the Hill, which will hopefully coincide with an ACCESS national meeting.
Important Information
President Rob Libera also suggested the organization and individual members develop better communication strategies regarding minimum wage and other workshop issues. "What we're trying to do is provide the maximum amount of opportunity," he said. "One of the keys to me is the ability to use a commensurate wage. Many individuals making minimum wage and above do well in a workshop because of the structure and environment of a workshop, which they wouldn't get in a competitive job."
Vice President Brian Hogan also noted the equation must also examine the rising costs of employees with disabilities who opt to stay in a group home, or are kept at a group home because of COVID fears, on dramatically increasing costs for those facilities.
The board has also determined that the fall meeting will be via Zoom video conferencing and take place during the week of Sept. 27. The plan calls for multiple, shorter training sessions throughout the week so that managers and staff will not need to set aside an entire day. "We'll spread out the sessions so there's more opportunity to get staff involved in different components," Libera said."
The next board meeting will be Aug. 24.