Board Conference Stresses Workshop Deadline, Grant Results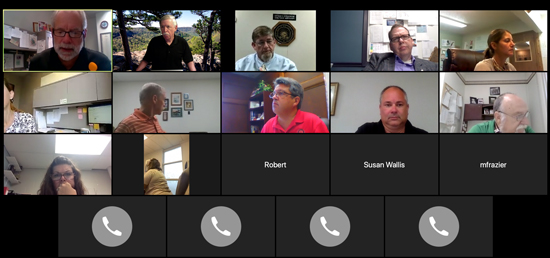 The MASWM Board of Directors discussed WIOA training, workshop options dealing with COVID-19 and funding issues during their bi-monthly videoconference July 20.
An urgent issue involved the July 22 deadline for required employees returning to work. Board members noted that any employee who returns after that date will need to be scheduled for individual training, which will not be easy with the limited staffing of Vocational Rehabilitation.
Overall Success
As of July 22, 91 percent of Missouri's nearly 6,000 workshop employees with disabilities had completed the training. A significant factor was MASWM's efforts the week of July 13 when information was distributed and multiple calls made to close a significant gap.
Some 500 employees still needed the training to meet WIOA requirements, but many of those were in a handful of shops, including one still closed because of the virus and its economic fallout.
"We think we'll be able to clear a lot of them up with the help of the phone option," noted Dan Gier, DESE Workshop Division director. "The VR people are working hard, but there's only so many of them."
Great Effort
Another MASWM effort that brought significant results involved the recent announcement of Missouri CARES Act grant funds for workshops. A major factor in the $4 million promised to workshops were efforts by parents who responded to a MASWM call to action. Along with legislators from throughout Missouri, especially active were Missouri State Treasurer Scott Fitzpatrick and Lt. Gov. Mike Kehoe. Board members also noted the funding is still being finalized and that, while $4 million may sound like a lot, it is likely to go quickly considering the massive costs workshops have incurred.
All MASWM members are encouraged to write their Representatives and Senators, the Lt. Governor and Treasurer, thanking them for this wonderful support of workshops.
Fall Meeting
The board also heard reports from several committees. Among these topics was the annual fall meeting, normally held in Branson. Board members noted it was likely the meeting will be a Zoom videoconference, and several training sessions may be included. The training may be held over several days in order to make scheduling less difficult for managers.