Board Hears Positive News for Workshops, Welcomes New Consultant

Jeff Murray, founder of the 535 Group in Washington, D.C., was introduced as MASWM's new federal legislative consultant during the June 14 board meeting.
Generally good news on several fronts and the introduction of MASWM's new Washington, D.C., legislative consultant were highlights of the June 14 MASWM Board of Directors meeting.
Held by Zoom videoconferencing, the session also celebrated the recent passage of Missouri House Bill 432, which included an amendment supporting Missouri's Extended Employment Sheltered Workshop Program (EESWP), as well as the allowance of commensurate wages as provided in the federal Section 14c of the Fair Labor Standards Act, if 14c were ever abolished at the federal level.
Legislative Chair Kit Brewer said several ceremonial signings of HB 432 with Gov. Mike Parson were being planned for workshop locations, although dates and locations have not been announced as yet.
Missouri legislative consultant Lynne Schlosser reported several other positive steps at the state level. Missouri revenue has continued to increase as COVID declines, further reducing possible needs for budget cuts that could impact workshop state revenues.
New Federal Help
A major portion of the meeting was the introduction of MASWM's new federal legislative consultant, Jeff Murray, founder of the 535 Group. Murray previously served with FTI Consulting Government Affairs and the C2 Group, both in Washington, D.C. He also served as chief of staff with U.S. Congressman Bud Cramer (D-Alabama).
"He brings a good, solid base toward moderates on both sides of the aisle," Brewer said of Murray. "We believe that is terribly important to our message going forward."
Murray's organization has begun organizing meetings with federal representatives and their staffs to discuss the topic. He also outlined members of the 535 team.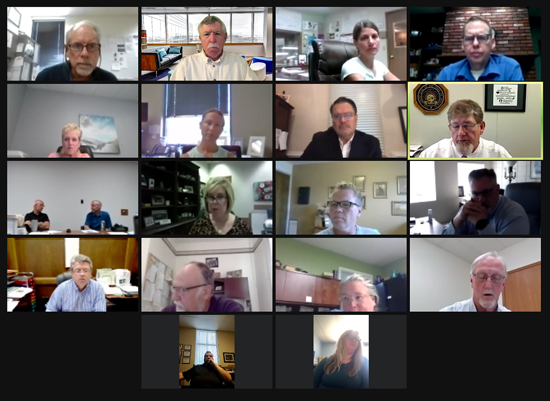 MASWM Board members discussed a wide range of topics during their June 14 meeting.
Events Planned
Advocacy Committee members Mike Stroud and Tracy Gretsinko updated the efforts of A Team Missouri. Gretsinko said the group is working with those in other states to organize a Day on the Hill event in Washington, D.C. The events were very successful until 2020 when they were suspended because of COVID. A plan is being developed to hold one this year in October.
Event Committee Chair Melonie Nevels announced plans for another return to in-person meetings via the fall MASWM Conference. She said that a meeting in the Hilton Promenade at Branson Landing has been scheduled for Monday, Sept. 27 and Tuesday, Sept. 28. Details are still being finalized, but the agenda calls for a Board of Directors meeting Monday from 8 a.m. to noon; lunch for all members from noon to 1 p.m.; and training from 1 to 5 p.m. On Tuesday, the general membership meeting is set for 8 a.m. to noon. Additional trainings and activities for Sunday, Sept. 27 and after the membership meeting Tuesday are being discussed. President Rob Libera established a committee to further plan those events.
Other discussion included an update on a task force established to consider options should Section 14c be terminated at the federal level. The group includes representatives from MASWM, Missouri Vocational Rehabilitation, DESE, the Missouri Department of Mental Health, MACDDS and MARF. The wide range of organizations were included because, if 14c were to be eliminated, everything from housing to day programs are likely to be impacted.
To Mask or Not to Mask
Several managers noted the varying guidance for mask mandates, and some shops reported that they are following CDC recommendations that those who are fully vaccinated do not need to wear masks. Other shops, noting lack of vaccinations by some employees and staff, continue to require masks at work.
The next board meeting will be held in August.