Board Wrestles with Local, State and National Issues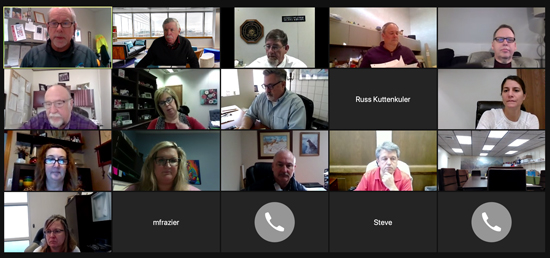 MASWM's Board of Directors ended 2020 with some good news, although much remains unsettled from a year of COVID, budget issues and more.
Meeting Dec. 14 by Zoom videoconference, board members heard some guardedly positive news from Legislative Consultant Lynne Schlosser and DESE Workshop Division Director Dan Gier.
Schlosser noted that, at least in the short range, Missouri revenues are not as bad as might have been expected. Longer range trends are not good because of expected income reductions, however. Gier noted that up to 20 workshops have closed for a day or more because of infections, and nearly all had experienced some form of coronavirus-related impact.
Vaccines, Masks
Other topics involve vaccines, which are now becoming available, and masks. A major issue for workshops is whether to require them for employment and issues such as scheduling days off for likely vaccine reactions and more.
Board members noted that recommendations and opinions varied widely, even among health departments and group homes where many employees with disabilities reside.
"I feel unprepared to give much advice," noted Brian Hogan, Area II director. "It's kind of a mixed bag legally."
Gier agreed. "It's all over the board," he said. "It's like the mask mandate; it depends on where you are." Several noted, however, that employers may legally require such things as mask wearing as a condition of employment.
14c Issues
Legislative Committee Chair Kit Brewer said the continued availability of 14c and commensurate wages are growing issues. A positive note involved a recent letter from Missouri Congresswoman Vicky Hartzler which supported 14c and detailed the complex factors involved in employing people with disabilities.
President Rob Libera said these ongoing challenges for workshops require communicating how they are the best, single employment option for many Missourians with disabilities and a critical opportunity for others to learn work skills and socializing. "We've got 86 organizations out there who are working hard to keep thousands of people with disabilities employed," he said.
Bylaw Changes Approved
The board also approved the final draft of proposed bylaw provisions. Committee Chair Heath Pugh noted that throughout 2020, the bylaw committee worked hard on the document, which includes changes to the election of board members and area directors. The revisions also include the addition of the past-president position to the board of directors and the addition of a governance committee.
"Each district will work with the governance committee to make sure that every position is filled and to see that members are represented," Pugh said. "One thing we wanted was to make sure membership has a voice, and we felt like that was achieved."
The revised bylaws will be voted on by membership at the January meeting.
January Meetings
The next board meeting will be Jan. 11 and will include final planning for the January MASWM meeting. Originally scheduled in Jefferson City for Jan. 24, 25 and 26, the annual meeting will now be held via Zoom videoconference, similar to the October meeting. Key factors are the continued spread of COVID and likely lack of access to the state capital building for the annual Legislative Breakfast. The April meeting, traditionally held at Lake Ozark, may be virtual as well, depending on developments in early 2021. Further details will be shared as soon as they are available.