Board Views Upcoming Workshop Challenges, Successes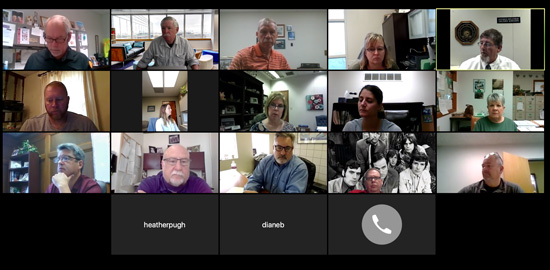 MASWM Board members eyed everything from upcoming state budget questions to possible highway truck area closures during their videoconference Nov. 9.
The MASWM Board of Directors discussed a number of issues at their most recent bimonthly meeting, held by Zoom videoconferencing Nov. 9.
Several topics involved future actions likely to impact workshops, the recent election, the 2021 state budget, COVID-19 and more. Many of the subjects are in the "wait and see" stage, but the board will continue to gather information to share with workshops so they can be prepared.
CARES Funding
DESE Workshop Division Director Dan Gier noted that initial CARES Act funds should now be deposited with all Missouri workshops, and the second round of the grants is being processed.
"The charge was to keep businesses open and take care of people," he said. "I think we fulfilled that goal."
Long-range issues include concern for PPE supplies later this year and early in 2021. Masks and gloves are likely to be the most impacted supplies. A nationwide mask requirement in early 2021 could influence that as well.
New Faces
Legislative Committee Chair Kit Brewer and Legislative Consultant Lynne Schlosser both noted that the Nov. 3 election brought few changes in the Missouri Legislature and the state's delegation to Washington, D.C., with the most notable example involving new U.S. Congresswoman Cori Bush from the St. Louis area. Both Schlosser and Brewer shared that they are working to communicate with members to outline workshop goals and challenges.
Brewer added that U.S. Congresswoman Vicky Hartzler is preparing information related to a recent U.S. Commission on Civil Rights report regarding 14c. Also under discussion was the apparent closing of some Missouri highway truck parking areas, which had been served by workshop employees. Committee Chair Susan Trump said the closings are the result of dramatically reduced gasoline tax funds by the Missouri Department of Transportation.
Looking Forward
Another topic for exploration involved a likely COVID-19 vaccine, including the pros and cons of vaccine requirements, liability and more. Board members agreed to research this topic, noting the workshops and workshop staff seem to be evenly divided on these issues based on informal surveys and discussion.