MASWM, Workshops Deal with Myriad of Issues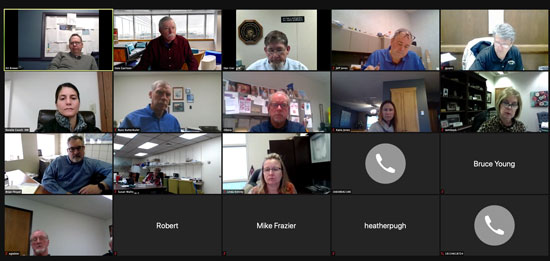 Plans for the January MASWM meeting and a wide range of other issues were discussed during the Jan. 11 Board of Directors videoconference.
The January meeting will be an approximately two-hour Zoom videoconference on Tuesday, Jan. 26. The speaker, a training session and other details are being finalized.
President Rob Libera said a major issue at the meeting will be final approval of proposed bylaw changes. Bylaw Committee Chair Heath Pugh will detail the proposed changes, which will also be sent to members before the meeting. Several initiatives are under way to continue the January tradition of legislator contacts, including the preparation of fact sheets on the status of Missouri workshops.
National Questions
Board members discussed several issues surrounding workshops nationally, from concerns about possible elimination of 14c and subminimum wages to workplace COVID vaccine requirements.
Libera and Legislative Chair Kit Brewer shared that development has begun for a short "elevator speech" and talking points on issues like 14c. Members said that managers need such resources when they are asked about these issues by board members or members of the public.
The sheer complexity of these issues creates another one. While 14c is likely to be a major question in 2021, few outside of workshops are aware of the many related issues impacting workers with disabilities. "This (14c) isn't just a labor cost issue," Brewer said, noting important sources such as SB40 boards and DESE. "If they change or eliminate that, it could impact other funding sources. They are all important."
Several board members suggested a survey of managers to detail any likely impacts from elimination of 14c. "It's good for us to take a look at what the impact will be, so when we talk to people like legislators we can communicate well," Eric Giebler said.
Mike Frazier shared that some estimate that it would require about $117 million a year for workshops to pay a $15 minimum wage. "It's really an economic puzzle to put together," he said, noting Missouri workshops do not receive Medicaid funds as in other states. "It's a real challenge for Missouri to put together."
Other Questions
Another widespread issue involves the availability of COVID vaccines and workshop options for their use. It appears that workshops and employees will be in Phase 1B of Missouri's distribution plan, which includes high-risk individuals and those over 65, first responders and essential workers. The state is currently in Phase 1A, which includes long-term care facility residents and staff, and healthcare workers. Brewer said he is seeking the specific inclusion of workshops to ensure they are involved in this next phase.
Legislative Consultant Lynne Schlosser noted the Missouri House and Senate are just now beginning the 2021 session. Major issues impacting workshops include a proposal to remove the word "handicapped" from several laws and regulations and the return of some $2.9 million for workshops that had been withheld. Access to the capital building and most offices remains limited. She and Brewer will be sharing workshop information on these and other issues with legislators.
DESE Director of the Sheltered Workshop Division Dan Gier provided details on several issues, from the status of employees who are able to work to dealing with employees who are employed in workshops and work part-time in competitive employment. He noted several management changes around the state.
Board members discussed postponing the annual April meeting to late April, May or even June in order to ensure time for widespread vaccination. Rollout of the vaccine will be the determining factor, and updates will be shared as they are available.
Some Positives
While nearly all workshops have dealt with reduced employee attendance because of COVID restrictions, several have experienced increased productivity and cases where individual employees have thrived, apparently because of easier socializing with smaller groups and less noise.
"With reduced attendance, we've seen people come out of their shell," Libera said. "It's not as hectic, and some people really need that." Others said that production has actually increased in some cases.