Board Hears Good News on State Funding, Other Trends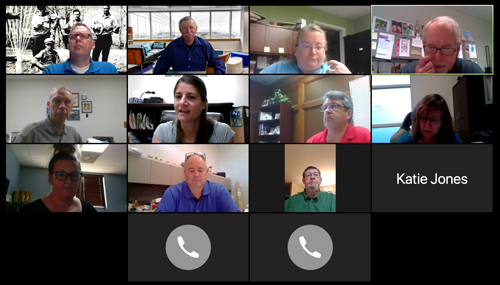 MASWM board members discussed everything from state funding to future meetings during the bi-mothly Zoom conference Oct. 12.
Potentially positive news for Missouri funding and other state and federal updates were among highlights of the Oct. 12 MASWM Board of Directors bi-monthly Zoom meeting.
One announcement involved recent visits by State Treasurer Scott Fitzpatrick to several Missouri workshops, including CMSE in Columbia and Project CU in St. Louis (see related articles here and here).
MASWM Legislative Consultant Lynne Schlosser said the treasurer has expressed interest in regular streaming videos on topics such as the Missouri ABLE Accounts, which are tax-free savings plans for disability-related expenses.
Good Signs for 2021 Budget
The most immediate good news involved a recent, upward trend of Missouri state revenues. "Revenue collections are up," Schlosser said. "That's a huge positive. Hopefully, the trend will continue; the economy does seem to be bouncing back more quickly than anyone thought."
DESE Workshop Division Director Dan Gier noted that processing of CARE Grant funds continues, with a methodical rollout of funds. The State Office of Administration personnel are employing the same process as with large vendor contracts.
"Workshop staff were going to Sam's or Costco to buy Lysol," Jim Guyre said. "And that's been typical for a lot of small businesses during the pandemic, which is different from large vendors the offices are used to auditing."
Legislative Chair Kit Brewer, manager of Project CU, said Treasurer Fitzpatrick asked several questions about CARES Act funds. Fitzpatrick suggested shops pay special attention to their support documents on grant applications, noting officials were finding a significant variation of document presentations from different workshops."
"Make sure your documents are good and solid and be ready to help anyone who may have trouble there," Brewer said.
Needs for Education
A similar communication issue brought questions by others in state government about whether workshops are following CDC and OSHA safety guidelines during the pandemic.
"It's hard to explain to someone who's been never been in a workshop, especially a small workshop where the manager also drives the bus, how cross-contamination is so easy," Gier noted. Brewer added that issues like this help explain why education and communications are so important for workshops.
Missouri A Team shared their communication progress with other A Teams across the country in crafting a response to a recent U.S. Commission on Civil Rights report, which was based on largely anti-workshop testimony. MASWM will share more information on that topic as soon as possible.
To Zoom or Not to Zoom
Conventions Chair Melonie Nevels, Hannibal, said that plans continue for the annual Legislative Conference Jan. 25 and 26 in Jefferson City. Plans are being made for both in-person and Zoom videoconferencing options. "We will make arrangements closer to the day," she explained. "We will need a head count in late November or early December."
President Rob Libera added that MASWM will gather complete information so managers will know what arrangements will be available with both options. One factor will be whether the state capitol building is open at that time. The legislative breakfast and tours of the capital are a major reason for the January meeting.
"We'll need communication on what the situation will be and ask managers if they would come," Libera said. "If we don't have enough people feeling comfortable, we'll move to Zoom."
Several board members also noted that while Zoom does not allow for things like informal dialogue between managers at a conference, it is proving to be a strong option that is especially suited for things like last month's Autumn Meeting training session. Board members noted that regular Zoom training sessions will almost certainly be planned in the future.