Workshop Employee Earns College Degree While Working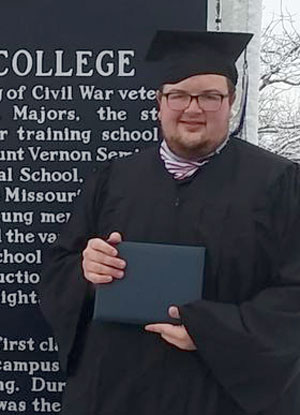 Anthony Jones recently earned a college degree in graphic arts while employed at Northwest Missouri Industries in Rockport.
Anthony Jones of Rockport has worked at nearby Northwest Missouri Industries since 2013, even before he graduated from Rockport High School in 2015.
With a work ethic that was evident from the start, it was only a little surprising when Jones expressed an interest in attending Peru State College in Nebraska. Even then, he continued working part time during the school  year, full time in the summer and on days when he served on a maintenance crews at a highway rest area.
But for Jones, it was an easy decision. "I decided to go to college when I was in high school," he recalled. "My cousin went to Peru State, and I wanted to go there, too."
It was a practical choice as well. Rockport is near Missouri's extreme northwest corner, and Peru State is actually one of the closest institutions to his home. He lives with his mother and, along with a nearby grandmother, relies on them for transportation so the proximity was important.
Anthony's efforts have not gone without notice. Glennette Christian, Northwest Missouri Industries manager during this time, said Jones deserves a lot of credit.
"He deserves to be  acknowledged," she said. "He not only graduated from college in December, but he also made the dean's list. We are extremely proud of Anthony Jones for his accomplishments."
Jones' degree is in graphic design, a field he first became interested in from video-game graphics. "I chose graphic arts because there are lot more design artists than you realize," he explained. "In the digital world, they're going to need a lot of designers."
He's already provided some graphics for the workshop and more may be coming. "We're thinking of a newsletter," Christian said. "I think there's some opportunities there."
Anthony's accomplishments are a reminder that people with a disability also have abilities. "Even though we have adults with special needs, they're capable of doing some outstanding things," Christian concluded. "For Anthony to complete an education at a college level is just awesome."