Membership Meeting Targets 14c Concerns and More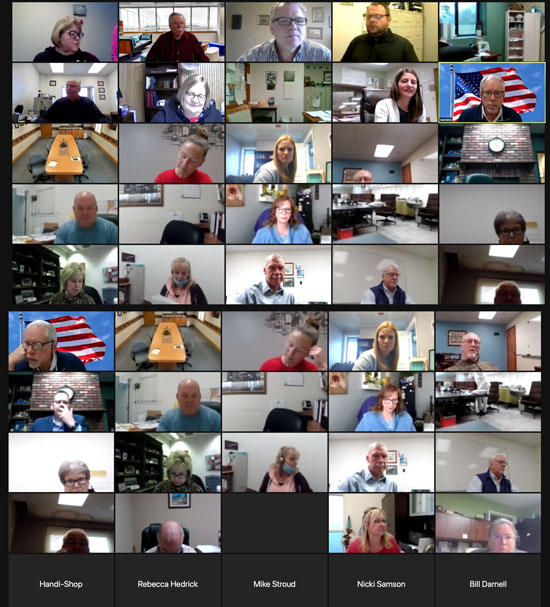 Approximatelly 80 managers and workshop supporters participated in the April 20 MASWM Membership Meeting.
Approval of widespread efforts to protect employment choice and other options for people with disabilities were highlights of a packed MASWM membership meeting April 20.
With nearly 80 managers and others participating in the Zoom videoconference, the two-hour meeting included a wide range of decisions facing Missouri workshops. Other key topics included major amendments to the MASWM bylaws, changing how Area Directors are selected and some of the duties they perform.
The meeting began with a video introduction from U.S. Sen. Roy Blunt, who cited his strong support for Missouri workshops and the work they do serving those with disabilities.
Approvals
The most significant action may have been unanimous approval of bylaw changes and the budget, both of which will be effective with the start of the fiscal year, July 1.
Heather Pugh, chair of the bylaw committee, said the group has worked for over a year. Among the notable changes is a new process for selecting Area Directors from within each district and better outlining their responsibilities. The alterations also include creation of a governance committee to handle future nominations and ensure board members remain active and informed.
"The committee really worked hard to give membership a voice and the ability for collaboration and transparency within the districts," she said. "We wanted to expand accountability."
Budgets and 14c
Treasurer Robert Greenwood presented the proposed budget, which was also the work of extensive research. As discussed in-depth in recent meetings, Missouri workshops have excellent relations with state legislators and the Missouri delegation to Washington, D.C. However, the Missouri workshop story is often unknown to representatives from other states, representatives who will be voting on issues such as the Raise the Wage bill, which currently includes elimination of commensurate wages. The MASWM budget earmarks resources to help address that.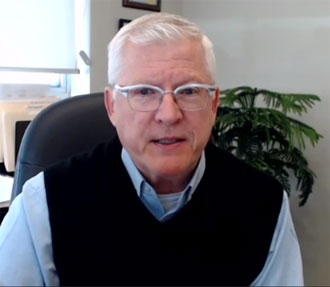 Bryon Myers of Specialty Industries in St. Joseph was one of several new managers participating in the April 20 meeting.
Legislative Chair Kit Brewer noted some good news in the form of a Missouri proposal (SB-582) that, if passed, would provide DESE officials the authority to issue commensurate wage certifications.
Eric Giebler reported on a recently formed task force which is exploring options if 14c is terminated. "We're trying to develop a tool or system of tools to address the issue should it come about," Giebler explained. "It may not, but we'd rather be proactive."
Brewer also noted that in the state budget process, workshops continue to be listed as fully funded. The Senate appropriation committee upheld full funding for the workshops, and the budget will be on the Senate Floor next week and must be passed, per the constitution by Friday, May 7, at 6 p.m. The session concludes May 14.
Other Reports
DESE Workshop Division Director Dan Gier reported that employees continue returning to workshops, with approximately 200 added in recent days.
A slate of Area Directors submitted by the Nominating Committee was approved unanimously. The directors will serve for two years and are as follows:
Area I - Byron Myers - St Joseph; Area II - Brian Hogan - Kansas City (also to continue serving as VP); Area III - Heather Pugh - Richmond; Area IV - Jeff Jones - Carthage, Joplin; Area V - Melonie Nevels - Hannibal; Area VI - Laura Giebler-Taylor - Rolla; Area VII - Tami Bock - Jefferson City; Area VIII - Linda Kimrey - Lebanon; Area IX - Charlie Fischer - Shrewsbury; and Area X - Susan Wallis - Cape Girardeau, Marble Hill.
Officers remain the same, with current terms expiring June 30, 2022: President Rob Libera, Lafayette Industries (St. Louis); Vice President Brian Hogan, Blue Valley Industries (Kansas City); Secretary Natalie Couch, Lake Area Industries (Camdenton); and Treasurer Robert Greenwood, Casco Area Workshop (Harrisonville).
Event Chair Melonie Nevels said an agreement is nearing completion with the Hilton Promenade in Branson for the Fall Conference, Sept. 27 and 28. The event would be the first "in person" MASWM meeting since January 2020.
Other reports featured Shellie Knight for SWIM; Susan Trump for  the MoDOT Committee, Mike Frazier for the Missouri Developmental Disabilities Council and Katie Jones for the Governor's Council on Developmental Disabilities.
President Libera closed the meeting by applauding all workshop managers, their staffs and DESE for persevering during this past year, as MASWM has been able to keep our program and services available this past year, and in many areas has been the only program available to people with developmental disabilities. We should all take pride in that accomplishment.