Missouri State Representative Tours Project CU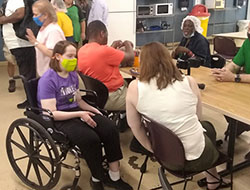 Project CU kicked off July with a visit from Representative Bridget Walsh Moore (093). Walsh Moore is a lifelong St. Louisan and current South County resident. She is a first term Representative, elected in 2020.  She sponsored of several bills during that deal with benefits and employment for individuals with disabilities.
P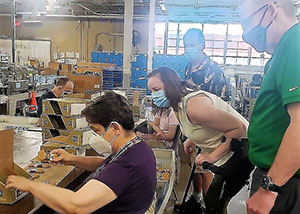 roject CU's director, Kit Brewer, first met Representative Walsh Moore this past legislative session when he had the opportunity to testify in front of the House Workforce Development Committee which the Representative is a member of.  The committee heard two of the bills that MASWM was tracking and supporting. The Representative had multiple questions regarding the sheltered workshop program and its operation. From her line of questioning, it was clear that the Representative had not visited a sheltered workshop and did not fully understand the employment opportunities that they provide. It was discussed that a tour was in order to provide a firsthand view of Missouri's sheltered employment program and the men and women who work there.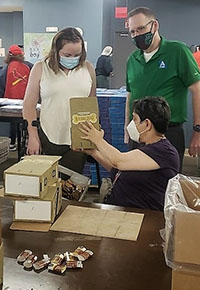 In addition, both Brewer and MASWM lobbyist Lynne Schlosser met on with Rep. Walsh Moore on various occasions to discuss not only sheltered employment but other legislation effecting individual with disabilities. MASWM worked closely with Representative Walsh Moore to modify language in her Employment First bill and assisted in getting it passed out of committee.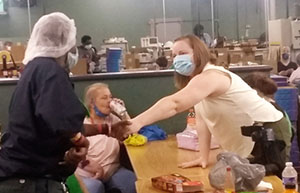 On Friday, July 2nd, Representative Walsh Moore toured Project CU in St. Louis.  Project employs 95 individuals with intellectual and developmental disabilities.  During the tour the Representative got to see the various lines being run at project including: a pet treat line, the creation of a conference hand out, the assembly of multiple valve components, a NAID certified secure document destruction line,  the creation of large display units, repackaging lines which change the configuration of product according to customer specifications, and two different lines operating in a clean room environment packaging items for testing and hospital use.
That variety is just part of everyday life at Project CU. Each of these lines has multiple steps and components allowing our employees to utilize their diverse skills and talents to provide quality outcomes for individuals and customers, alike. Project provides subcontracting for more than 20 local and national businesses. Their team ensures that each job is broken down and organized in such a way as to include individuals of all skill levels, allowing for training, development, and quality production.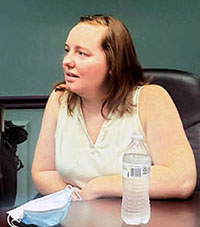 R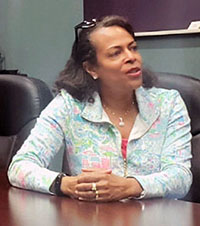 epresentative Walsh Moore toured the entire site, observed the different jobs performed and engaged with several of Project's employees during their lunch breaks. For more than an hour, conversations ranged from Sheltered Employment and individual plans and goals to favorite foods.
Parents joined the Representative, Kit, and Lynne for a lunch in the PCU conference room. Parents shared many of their experiences, successes, and barriers, that they've experienced during their children's employment. The consistent message that Rep. Walsh Moore took with her was the importance of Project CU and Missouri's Sheltered Workshop Program.
Following the tour, Representative Walsh Moore stated, "It was a pleasure to have the opportunity to tour Project CU. I enjoyed talking with employees and parents and observing firsthand Missouri's Sheltered Workshop Program. Sheltered Workshops provide a valued employment option and I look forward to continuing to push legislation for employment opportunities at all levels for Missourians with disabilities."