State Treasurer, Bylaws and COVID Part of January Meeting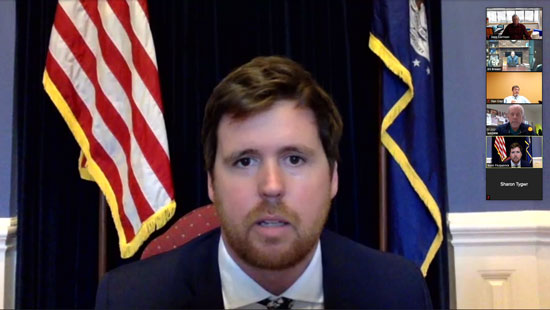 Missouri State Treasurer Scott Fitzpatrick's presentation was a major highlight of the January MASWM videoconference.
Nearly 100 individuals representing 70 workshops and supporters joined the January MASWM meeting Tuesday, Jan. 26.
Held by Zoom video conference, the meeting was packed with topics, ranging from new bylaws to a presentation by Missouri State Treasurer Scott Fitzpatrick. But first it was an opportunity to celebrate. As Board member Susan Trump said, "It's just exciting to see everyone."
President Rob Libera noted that the past year has been an especially grueling one for workshops. "It's been a year of dealing with COVID," he noted. "It was almost exactly one year ago that we held our last meeting in Jefferson City. It's still going to be a while, but we'll be meeting again!"
A Special Visitor
One highlight of the meeting was a presentation by Missouri Treasurer Scott Fitzpatrick who detailed Missouri's ABLE Accounts that help people with disabilities, their parents and guardians to save financial resources without risking their eligibility for Medicaid and other programs.
"They have to have Medicaid, Social Security," he said. "This allows them to still have that while having the ability to put together some resources. Otherwise, if they have more than $2,000, they'll lose those resources."
Fitzpatrick said Missouri's ABLE program is very popular, doubling in membership since he took office two years ago. "I think it's one of the best in the country," he said. More information is available at this link: https://www.moable.com.
The treasurer also said Missouri's budget is not looking as dire as it might have earlier, an observation also made by MASWM's legislative consultant Lynne Schlosser. Fitzpatrick said that some of the $2.6 million withheld by the governor in 2020 could be released later this spring.
"Right now, I'm pretty optimistic there's some support on the way," he said, while cautioning that issues like mandated increases in Medicaid and local funding shortfalls could impact the picture. "The negative news is not definitely wrong, but I'm also seeing some positive signs."
Bylaws
Chair Heather Pugh reviewed the recent work of the Bylaws Committee, which also includes Charlie Fischer, Jim Guyre, Susan Trump, Mike Stroud and Ginger Williams. The group has worked since early last year to update the current bylaws.
Members generally agreed on the suggestions, but final approval was tabled to allow clarification of the process for electing officers – primarily revising old language in several areas to reflect the proposed changes and ensure consistency throughout the bylaws. These revisions will be presented in new proposed bylaws before the April meeting.
The extensive revision process is indicated by even a brief summary of major changes. Pugh shared that priorities for the changes included ensuring representation of all shops of various sizes, raising and mentoring new managers and effectively engaging all directors.
Other proposed changes include:
• The past president shall be utilized as an advisor to the current president and provide continuity to the organization.
• Better definition of the role of area directors.
• The creation of new governance committee for identifying and nominating future district directors.
• The creation of a new redistricting committee to examine and adjust as needed MASWM's current state districts.
14c Elimination Proposal
Members extensively discussed federal proposals to raise the minimum wage to $15 an hour and eliminate section 14c of the Fair Labor Standards Act. Elimination of 14 c would bring dramatic, even fatal, financial stress to most workshops, especially small and rural shops. Together they represent a major threat to providing employment for people with disabilities.
"There's no one who can come close to absorbing that cost," DESE Workshop Division Director Dan Gier said.
Legislative Chair Kit Brewer said the issue is difficult because the 14c and minimum wage issues have been lumped together in the federal proposals. "MASWM does not object to the minimum wage by itself," he said. "But the association believes that any conversation on minimum wage must include a commensurate scale."
The meeting included several discussions on this important topic and critical, related action was reported by A Team Missouri representative Tracy Gritsenko. Gritsenko announced a phone call/email campaign will culminate Monday, Feb. 1. Details on this effort will be emailed this week, and all workshops are urged to share the information with parents, guardians and other community members.
Gritsenko said the effort will extend beyond Missouri, with extensive work in 20 states and national efforts as well. She added that while the challenges are serious, the growing response is heartening.
"It's definitely turned into a national effort," she said. It's really grown and this is what we wanted: a national voice."
Other Updates
Gier also noted in his report that his office is working on contract payments for highway work provided by several shops. The payments, which come from the Missouri Department of Transportation through a contract, are from 16-19 months overdue. Gier also shared that it appears likely a new workshop will be approved in Ironton.
On a tragic note, Gier said that 27 certified employees, six staff members and 20 workshop board members have died from COVID.
Brewer informed the group about a handout, "The Missouri Difference," that was distributed to legislators earlier in January, at the start of the legislative session. He urged all members to become familiar with the document as a way to help communication with their individual representatives.
"We would ask all of the membership to become at least somewhat familiar with this document so all of us are using the same points," he said. "For the next couple of years, the budget will be very limited, and we should be as accurate and as consistent as we can be."
The group also discussed how workshops are handling vaccines or plan to when they are available. President Libera noted that information will be shared as available to help shops plan for yet another challenge. Such issues have been typical of the last 12 months, he said, citing the impact of COVID which began almost exactly a year ago.
"It's like we've been running a marathon," Libera concluded. "We were told we were running a sprint, then a 10k and now it's a marathon. We have some challenges, but we've met them before, and we'll meet them again."
A video of this meeting is available in the online Resource Library. (password required).