Workshop Highway Efforts Illustrate Benefits of Cooperation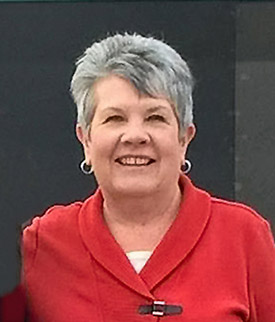 As chair of MASWM's transportation committee, Susan Trump credits cooperation among several workshops for the important renewal of highway rest area contracts.
Fourteen Missouri workshops were recently awarded new, three-year contracts for services at Missouri highway rest stops.
Although the effort was unseen by many, for these shops and their employees with disabilities, the results were significant.
"These contracts are very important for the number of good jobs we have for our employees and for our workshop budgets," explained Susan Trump, retiring manager of United Services in Bethany and chair of the MASWM transportation committee.
Most of the 14 workshops are relatively small, rural shops. Located in areas with little or no industry that could provide packaging and assembly work, they find the rest area jobs provide invaluable opportunities for employees able to handle jobs outside a workshop. The agreements call for a three-year contract with options to extend the work for two, one-year agreements.
A Long Road
The effort actually began in 1987 when shops like Pemiscot Progressive Industries in Hayti first contracted with the Missouri Department of Transportation. "It just grew from there," Trump said. "It was a good fit for everyone."
For several years the contracts were short-term, sometimes just six months. Then MoDOT went to multi-year contracts, but the biggest change came nearly 10 years ago when the agency decided to use a private firm specializing in rest area supervision to subcontract the work. Not surprisingly, workshops feared an end to important opportunities for workers with disabilities and major income for shops located in rural areas.
The workshops kept the contracts, however, but found themselves in a similar position five years ago. With reports that at least one of the bidding companies was exploring the possibility of not using sheltered workshops, stress became an understatement.
"That put a lot of fear and panic into those workshops," Trump recalled.
Big Efforts
The response came down to communications. "We began to do some reaching out," Trump said.
It worked. When the Highway Commission gathered in Springfield to announce their decision, they not only approved agreements that would include workshops, but they expressed their appreciation for all of the workshop managers. "They were very happy to see sheltered workshop managers at the meeting," Trump noted. "We had reached out, and they were glad we had."
This year's effort was equally challenging, but for some additional reasons. For one thing, COVID made meetings, even delivery of material, difficult, even impossible. Other factors, from new managers to increasing prevailing wages and more, made the outcome anything but certain, so when the new contracts were announced with workshops included, the response was dramatic.
"I'm happy for my counterparts, and I'm really happy for this workshop," Trump noted. "If it had gone the other way, how do you make that contract up in a small shop like these to make that much income and opportunity? That's a terrible crisis to be in."
The Missouri Model
There are other benefits to the program as well. Employees with disabilities working in the rest areas are often "ambassadors" for people with disabilities, for workshops and even more. One recent example involved a family traveling across the country on their way to one member's 91st birthday.
The group stopped at the Hayti Welcome Center and decided to take a photo. Staff members from Pemiscot Progressive Industries were working there, and the family wanted the workers to be included. The result was memorable.
When all else is said, the program is an important nod to workshops and the people they serve. "With the politics of 14 C and sheltered workshops' very existence so questioned right now, for the Missouri Highway Department to take such a stand to employ people with disabilities is tremendous," Trump concluded. "That's one of the things that makes up the Missouri difference. Show me another government agency that has done that much. I don't think MoDOT gets the recognition for what it's done, but it's a very important."