New Area Director: One Title, Many Jobs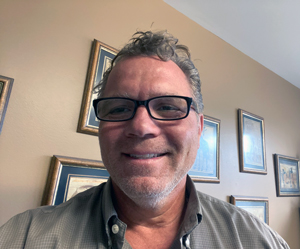 Charlie Fischer of Canterbury Enterprises in Shrewsbury is MASWM's new Area IX director.
Charlie Fischer's title is officially executive director of Canterbury Enterprises in Shrewsbury. But in ways that many managers understand, multi-tasking, including sales, customer service, and production management, fall into his daily routines. 
"You have to really want to do something like this," he said. "I still go out and jump on the forklift. That's our kind of shop."
As if all of that wasn't enough, Fischer recently took over as MASWM's Area IX Director. He's known MASWM President Rob Libera and former Treasurer Dee Froneyberger for many years. With the retirement of former Area IX Director Russ Kuttenkuler, he decided this was a good time to volunteer.
"It's important," he noted. "There's a lot to do."
Long-term Goal
Fischer entered his workshop career with a good background for the work. Originally from Illinois east of St. Louis, he grew up on a dairy farm and like most in that field he did a little of everything, even milking cows.  Next, he joined a company manufacturing construction supplies and roof trusses. He enjoyed the work there in management & customer service, but after 18 years decided he wanted to pursue something with more impact on his community. "I got a little burned out," he recalled. "I decided it was time to move on, and nonprofits really appealed to me. I realized that's what I wanted."
He decided to earn a graduate certificate in nonprofit leadership, then soon after learned of a management position open at Canterbury Industries. That was 15 years ago, and since then he's had many surprises, but none that made him consider changing his mind – even with the typical workshop experience of juggling multiple challenges simultaneously.
"There's a lot of different things we get to do here," he said of the workshop, which provides employment for up to 80 people with disabilities. "We stay busy."
On the Move
"Staying busy" may be an understatement. The shop is currently working on items for Easter 2022 for one customer. Several industries' customers also call on Canterbury for packaging and related work. A number of St. Louis area printers use Canterbury for different jobs. Then there are activities like instruction required by the Workforce Training and Opportunity Act (WIOA). Downtime is the one thing in short supply at Canterbury Industries.
Even with all of that, the past year stands out, thanks to COVID.
A big job for Canterbury each year involves preparing and packaging Christmas and Easter products, which begin months before delivery. Last year, a large quantity of Easter goods was already ready for delivery when the order was canceled because – due to COVID – Easter was effectively cancelled.
"It was a rough year, but we got through it thanks to help from area businesses and news stations creating awareness," he said. "Those kinds of things happen, but that was something else."
Challenge isn't something new to Fischer personally, either. An avid outdoorsman, he enjoys running, canoeing and kayaking, and chopping firewood. Married and with three children, the family just added Fischer's first grandson. They also enjoy time at a cabin near Hermann.
"Life is good," he noted. "I can't complain."