MASWM Board Sets Two-Hour Conference Sessions for Sept. 27-28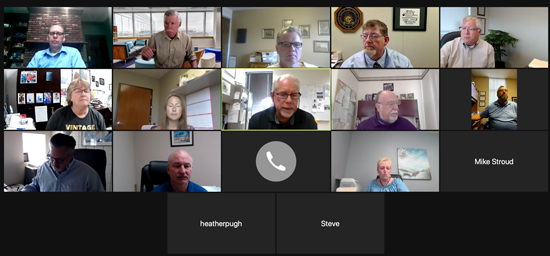 The MASWM Fall Virtual Conference will be 10 a.m. to noon on both Monday and Tuesday, Sept. 27 and 28.
Meeting by ZOOM videoconference Sept. 13, the MASWM Board of Directors outlined two-hour segments for both days. Although the agenda is still being finalized, plans call for a focus on training, with topics to include an update on 14 C and other legislation, an update by MASWM's new Washington, D.C., legislative consultant and a membership meeting on Tuesday.
A detailed agenda will be sent prior to the meeting; highlights are:

Monday, Sept. 27, 10:00 am-12:00 pm
Understanding Autism and your employees, with guest speaker Megan Tregnago of Easter Seals.
Your MASWM

Organization structure
The Legislative Committee
Tuesday, Sept. 28, 10:00 am-12:00 pm - Association Meeting, highlights include:
14 c status, initiatives
DESE update
Missouri legislative update
535 Group, MASWM's Federal legislative efforts
MASWM Committee reports and finances
Managers have been emailed registration information. If you are a MASWM member and have not received it, email editor@moworkshops.org.
14 C Focus
The possible termination of 14 C is also the subject of a Task Force created by MASWM and other organizations serving Missouri residents with developmental disabilities. The group is working to develop a comprehensive picture for what would happen if 14 C and its allowance for commensurate wages is ended. Planners hope to have an accurate picture by the conference.
"We're looking for the total impact of what would happen if there was a huge vacancy in workshop employment," President Rob Libera said. "Some of the numbers are overwhelming." He noted that not all shops have completed a survey, and MASWM is reaching out to Area Directors to help reach those shops.
Other topics included reports by Missouri legislative consultant Lynne Schlosser and the likely impacts of the recently announced vaccine requirement for companies with 100 employees or more. On the vaccine, Libera said that more information is being sought from OSHA, which will administer the requirements. DESE Sheltered Workshop Director Dan Gier shared that extensive legal discussion will be needed before the enforcement picture becomes clearer.
Training Waiver
In another area, Gier said the waiver instituted to allow at-home training for employees quarantined in group homes would continue through June 2022, the remainder of this fiscal year. "It's easier to waive it for the remainder of FY '21," he said. "At last count, there are 10 group homes that remain locked down. Some of the only (outside) engagement those employees are getting is when workshop materials arrive on their doorstep."
Legislative Chair Kit Brewer said federal legislative activity has been significant, with several trends that could threaten workshops. The current reconciliation bill includes a proposal which would provide up to $300 million for grant funding to states that end their 14 C programs before 2025. MASWM is working with the Missouri Delegation on two amendments, one to eliminate the Grant Opportunity altogether, and a second to ensure a longitudinal study of the impact on people with disabilities in states ending 14 C over the next decade.
He added that several groups have been calling for a comprehensive, national study of the impacts of ending 14 C. Brewer noted discussions surrounding the topic are often hampered by a lack of real-world information.
"It seems like a small thing, but data is what's missing in this whole discussion," Brewer concluded.
Brewer continues to work with the Coalition for the Preservation of 14 C as an advisor and to expand MASWM's network of contacts nationally. He said the group is working together to unite messaging from the various states and organizations in support of 14 C.
Center Forward, a moderate coalition of elected officials and staffers in DC, is finalizing a concise white paper on the minimum wage issue, which they believe should be separate from 14 C discussions.