MASWM Board Examines 14c Issues, Other Workshop Questions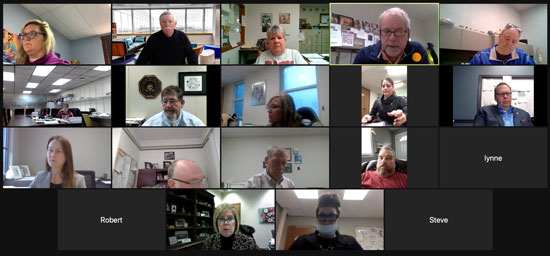 In their latest videoconference, the MASWM Board of Directors faced what has become a typically wide range of issues, including some that could threaten the future of Missouri workshops.
The most dramatic topic in the Feb. 8 meeting involved Section 14c of the Fair Labor Standards Act, which has been attacked in several areas, including minimum wage proposals at the federal level. A major letter-writing campaign Feb. 3 by A Team Missouri produced 1,600 emails and many calls. The results included positive responses from the Missouri delegation, although this continues to be a fluid situation and the threat to 14c remains.
Legislative Chair Kit Brewer and Legislative Consultant Lynne Schlosser noted their efforts have met with positive results as well. Schlosser said Brewer's recent testimony before the state legislature was well received and that communications with legislators remains positive. Brewer shared that the A Team effort was also followed with calls to congressional members and senators. House and Senate versions of the stimulus bill disagree on the inclusion of proposals to end 14c. But Raise the Wage looms in either case, and also seeks to end commensurate wages.
"We're still hopeful on the national side, but we've got a lot of work to do," Brewer said.
President Rob Libera agreed. "We can take a breath, but it's important to continue our planning." Libera said an ad hoc committee will be meeting to examine options should 14c and other workshop-related funding be reduced or eliminated.
DESE Sheltered Workshop Division Director Dan Gier reported both good and not-as-good news. With the appearance of a new coronavirus variant in Northeast Missouri, both OSHA and the CDC are expected to publish emergency rules for workplaces, including workshops. He added that managers should be careful to identify their workshop as a Community Rehab Program rather than as a business with the Department of Labor. Such misidentification caused some problems for several workshops.
Gier and Transportation Chair Suzanne Trump said that MoDOT will likely rebid contracts, such as rest area maintenance because renewal authority hit a five-year limit. Gier added that a hearing on rewriting contracts is likely to occur in the last quarter of 2021 or the first quarter of 2022.