Managers Examine Lean Operation Strategies for Workshops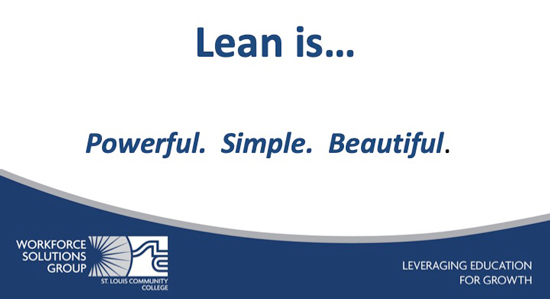 (
A full video and PowerPoint of this presentation summary are available in the password protected
MASWM Resource Library
)
Dozens of workshop managers and staff got an in-depth look at Lean Manufacturing concepts during a training session Wednesday, Sept. 30.
George Friesen used his Lean business practice background of over 35 years – including work with several Missouri workshops – to present real-world examples of how and why these proven strategies can be applied in the workplace and even life.
Although Lean practices can include something as simple as a clean office, Friesen began his presentation with a quote from Albert Einstein: The world is the way it is because of the way we think. To change the world, we have to change the way we think.
Real-World Cases
One of Friesen's real-world examples involved a rug equipment company where the owner watched his loading dock in order to find a significant time savings.
"He saw that it took about 90 minutes to unload every truck," Friesen said. "But he observed that by changing the way the boxes were loaded on the pallets, they could eliminate a lot of wasted motion. The changes took about 10 minutes, and the 90 minutes for unloading was reduced to 15 minutes."
Resistance to change is strong, however. Friesen noted a case where surgeons were presented a "checklist manifesto," which had been shown to reduce deaths by 47 percent, but they initially refused, resisting alteration of their traditional processes and fearing a loss of individual pride.
People Power
A big part of the Lean philosophy involves employees, Friesen stressed. Using examples that range from small offices to corporations like Boeing, he noted that "candor, trust and respect" are critical to learning where waste can be eliminated and bringing about positive change. "Without the truth and the facts, operations can't happen," he said.
Friesen said workshops are often outstanding practitioners of Lean operations in many areas, although they may not call it that. However, human nature often resists change on a fundamental level. One example involved a cluttered office cabinet that everyone ignored, even though they knew it resulted in an immense waste of time every time someone had to use it. Asked why, several managers offered reasons.
"It's easy to say, 'I don't have time to do anything about it,'" volunteered Dede Spidle, Office and Store Manager, Macon County Sheltered Workshop. "Or they say, 'It's not my responsibility.'"
Byron Myers, manager at Specialty Industries of St. Joseph, noted another reason to resist change. "We're hardwired to resist change because habit and known practices are comfortable and perceived as safe," he said.
More on the presenter
George Friesen serves as Business Practice Leader - Lean Manufacturing for the Workforce Solutions Group of St. Louis Community College. He has led the college's Lean business practice area since 2000. Prior to joining the college, Friesen worked for Maritz Performance Improvement Company. Over the past 35 years, he has served a wide variety of Fortune 500 companies, specializing during the past eleven years in Lean Manufacturing, focusing especially on the 5S System, Lean leadership and thinking processes, Value Stream Mapping, and Lean team building. He is a graduate of Washington University (AB), Webster University (MA), and United States Air Force Flight Training.