Language Protecting Sheltered Workshops Signed into Law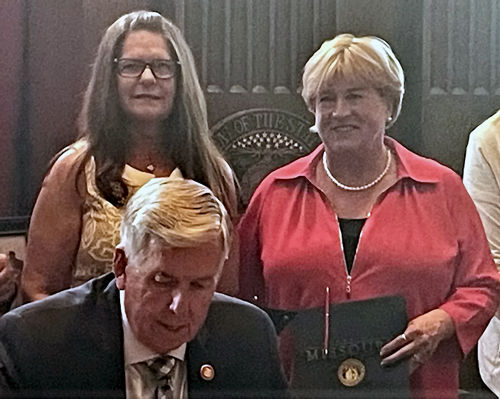 The sponsor of HB 432, Senator Karla Eslinger (right), joins with MASWM legislative consultant Lynne Schlosser watching Missouri Gov. Mike Parson sign the bill.
Missouri Governor Mike Parson signed HB 432 into law during a public bill signing ceremony on Wednesday, July 14. The bill will take effect on Aug. 28 and it is expected that DESE will begin the rules process shortly thereafter.
MASWM legislative consultant Lynne Schlosser explained that language included in HB 432 was drafted in response to very real threats at the federal level to eliminate and or phase out section 14 (c) of the FLSA. Schlosser worked with the MASWM legislative committee to seek a proactive response should that ever happen. Thanks to the "Missouri Difference," Missouri's workshop program is not tied to nor dependent on Federal funding so they essentially put section 14 (c) language into Missouri law, which was included in House Bill 432, establishing a commensurate wage certification process through DESE.
It will take time for DESE to establish their rules, processes and procedures for certifications and once ready, the team envisions that 14(c) certificate holders would apply to DESE for State certification, in addition to your Federal DOL certificate. It is their hope that DESE will issue State certificates to current, valid 14 (c) certificate holders in a simplified manner and if/when 14 (c) is ever eliminated or phased out, you would at that time transition to a State only certification.
Schlosser expressed a big "thank you" to everyone who reached out to the Governor's office asking for him to sign this important legislation. The messages were received and at the public bill signing the Governor's staff said the bill had several provisions for children and families and protections for Missouri's Sheltered Workshops. Out of the 23 different provisions in the bill, workshops were the only one specifically mentioned.
Schlosser also expressed pride in the bill's passage. "In my 20-year career, I can honestly say that I am most proud of being a part of this piece of legislation. We essentially were able to prohibit the Federal Government and the Administration from actions that would negatively impact, and likely phase out Missouri's Sheltered Workshop Program. An Accomplishment we should all be proud of!"
She also noted 14 (c) should not be disregarded. "Hold on to your Federal Certificates! You will continue to apply for your Federal 14 (c) certification and renewals indefinitely, or until such time when/if section 14 (c) it is phased out or eliminated."