Competitive Employment: An Important Opportunity for Missourians with Disabilities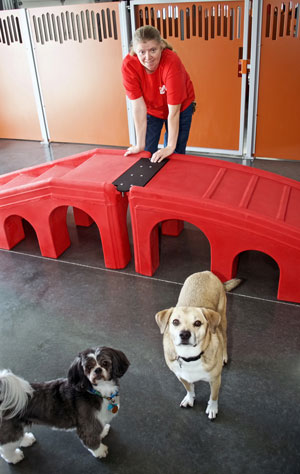 As with many workshops in Missouri, community employment offered by Vocational Services in Liberty and North Kansas City includes a wide variety of opportunities – including work in a pet sitting business.
Vocational Services, Inc. is one of several Missouri workshops that has operated a competitive employment program that places employees with disabilities in jobs with participating private employers.
Formally titled Community Integrated Employment, these jobs range from working in a restaurant kitchen to providing maintenance services at a large Wal-Mart. Others work at a veterinary center and fast food locations.
VSI has operated its program for nearly half of its more than 50 years. Even with three workshops in Liberty and North Kansas City, the added opportunities provided by Competitive Employment (CE) are important for workers who want additional challenges.
"The board made the decision to provide the opportunities that were available in extended employment that would help them to move forward and try different kinds of jobs," VSI Executive Randy Hylton explained. "The idea was that they're in the workshop learning all these skills, and it was logical to take those skills and move forward."
Program Growth
Although factors like the Workforce Innovation and Opportunity Act (WIOA) have changed some processes, the fundamental focus on employment opportunity remains as important today as ever.
"We have people who come from vocational rehabilitation and go straight into competitive employment, as well as people in our workshops who want to try it (CE)," Hylton said. "It's a natural opportunity. They get to go out and try those jobs. Family members can see how they're doing, support staff can see how they're doing and the employee can decide if they like it."
Some don't like it or the job fit is not as good as it initially appeared. That's where workshops also serve as an important "safety net." If a CE job doesn't work out, the employee can easily return to a work environment, remain active and reassess his or her options.
"Sometimes it doesn't work," Hylton noted. "But unless they try it, they'll never know."
Increased Challenge
VSI employs nearly 200 people in its workshops and nearly 70 in supported employment. Like workshop employment, CE jobs are changing, with increasingly sophisticated positions being held by several workers.
"We've seen jobs go from simple, entry-level jobs to people who are key employees in the businesses where they work," he said. "We have one gentleman at a lumber yard, and his manager says he's a key guy. He knows the store completely, and he'll get the customers what they need."
Hylton urges shops to recognize the growing importance of a competitive option but not to consider it a replacement for workshops. "One of the biggest challenges can be for board members to understand that's not going to end the workshop," Hylton concluded. "It's going to be another service your organization can provide. It's another opportunity."