Creative Solutions, Hard Work Used to Combat COVID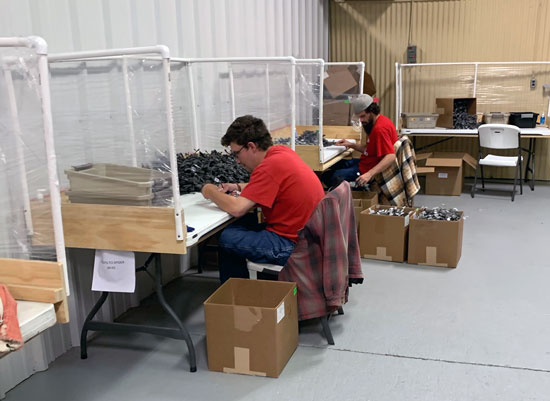 Using dividers between employees was one relatively simple adjustment Missouri workshops made to deal with the pandemic. Other challenges were more complex.
(The following article is from the January 2021 MASWM Newsletter.)
Missouri workshops, serving 5,400 people with disabilities, have experienced both highs and lows during the coronavirus pandemic.
Like other small businesses, workshops have faced major challenges. Customers, suppliers and employees have been impacted, in many cases dramatically. But, through hard work and creativity, many have survived and, in some cases, thrived.
Rebecca Hedrick of Gateway Industries in Eldon is a good example. "We are currently open with all employees in attendance," she recently reported. "Jobs are scarce, but we are surviving. Gateway is beginning to manufacture face shields. The hope is to at least keep jobs available for the employees."
A recent survey, with 36 shops reporting, found 15 had experienced steady business over the past nine months and five had seen increased customer traffic. Thirteen had experienced reduced business.
In the past 30 days, a majority (16 and 12) have seen steady or increasing business. Several shops that closed earlier in 2020 had reopened in the fall.
Each Shop Unique
As in normal times, the scenario varied significantly between individual workshops, with solutions differing depending on local business markets, rural and urban environments, and more.
Gina Tackett at Earthwise Industries in Troy said her workshop was focusing on their own retail outlet. "We are going to expand the thrift store to increase revenue," she explained. "We will move the production line to another section of the building so we can continue small-product assembly. It is uncertain as to the total impact if there is a statewide shutdown again of small businesses like us. We were closed for five months during the first shutdown, and it had a huge impact on our ability to generate revenue."
Kit Brewer at Project CU St. Louis reported activity typical of several larger shops. "Both calendar and fiscal output have exceeded projections," he said. "But supply-line issues continue to be problematic. We continue to hire, but attendance ebbs. Overall, we have a positive outlook."
Several workshops faced serious issues when a major customer was severely impacted by the pandemic. "I think we have one major packaging customer who has been hurt by the inability to obtain raw materials," explained Susan Trump, United Services in Bethany. "I'm afraid that portion of our business will be down drastically next year."
Homes and Grants
Two other factors impacted most shops. Many employees with disabilities live in group homes, which instituted rigid quarantines so workers could not leave their residences. At the same time, several shops were involved with production of protective equipment and were "essential."
Help also came from DESE and other sources. "We have been able to obtain some very helpful grants through DESE and MRCP to keep our workers safer," noted Joe Bruno, Scenic Rivers Industries, Inc., Salem. "The only issues currently are funding splits from our SB40 board. Although, we expect to have a better outcome in 2021."
Natalie Couch saw another trend at Lake Area Industries, Camdenton. "Our customers provide recreational products, therefore people being home more because of COVID-19 has caused their sales to decrease," she said. "Once those buying patterns return to normal due to people vacationing again, I believe their sales will increase."
Others remained in business, despite an economic domino effect. "We have remained open the entire time, but our paper-sorting room does not have enough work to support all the employees," Geoff Shackelford, Boonslick Industries, Boonville, said, noting school closures as a major cause.
Creative Solutions
Shackelford noted recent changes, however. "We're using the new efficiencies we've gained with a reduced workforce to be able to expand our recycling services to other markets," he said. "We are developing strategies to improve our resale store profits by focusing on labor costs and defining new ways to be efficient."
Others were pursuing similar tactics, dealing with quarantined employees and lower business traffic while seeking creative expansion or new markets. Another variable, state and federal legislation, concerns many.
"A lot depends on legislative issues, especially at the federal level," said Linda Kimrey, Laclede Industries, Lebanon.
One thing many depend on unequivocally involves workshop staffs and employees with disabilities. Brenda Stuppy, Ste. Genevieve Industries, Ste. Genevieve was typical. "We've been really happy with how cooperative our employees are with the current pandemic and how well we are doing at keeping everyone safe," she said.
A major priority for all workshops involves safety for those employees, noted Ginger Williams at MCII in Farmington. "Right now, we are focused on keeping our employees and staff safe and healthy and meeting our customer's deadlines," she said. "For 2021, we hope to get everyone back to work and we expect to hire some new employees."